Great Lakes Division
Forwards

Ethan Bishara, Columbus Mavericks
The Mavericks didn't get a ton of games in for the month of November, but every time they hit the ice, but in each of their three appearances, Bishara ('02/Clarence, N.Y.) was on fire. He posted three goals and four assists for seven points in the Mavs' three games for the month, all of which fell between Nov. 18 and 21.
Overall, Bishara remains one of the top scorers for the second-year Mavericks, posting a 5-8-13 line. In the team's 3-1 loss to Midwest East opponent MJDP, he had the Mavs' only goal. In their weekend series against the Buffalo Thunder, he was a key to the sweep with a 2-4-6 line in those two contests.
Evan Victor, Pittsburgh Vengeance
If there is a game, Victor ('02/Pittsburgh, Pa.) is right there to score in one way or another. For the last 10 games, including all seven of the Vengeance's November contests, Victor has found his way into the scoring column of the scoresheet. Overall, he posted seven goals and four assists for 11 points on the month. This included a run of five goals in three games between Nov. 15-21. Victor finished the month tied for the team lead in plus-minus at +9.
Victor is now in his third season in the USPHL and with his hometown team. He was part of the Vengeance 16U team that won the USPHL 16U American Championship in 2019.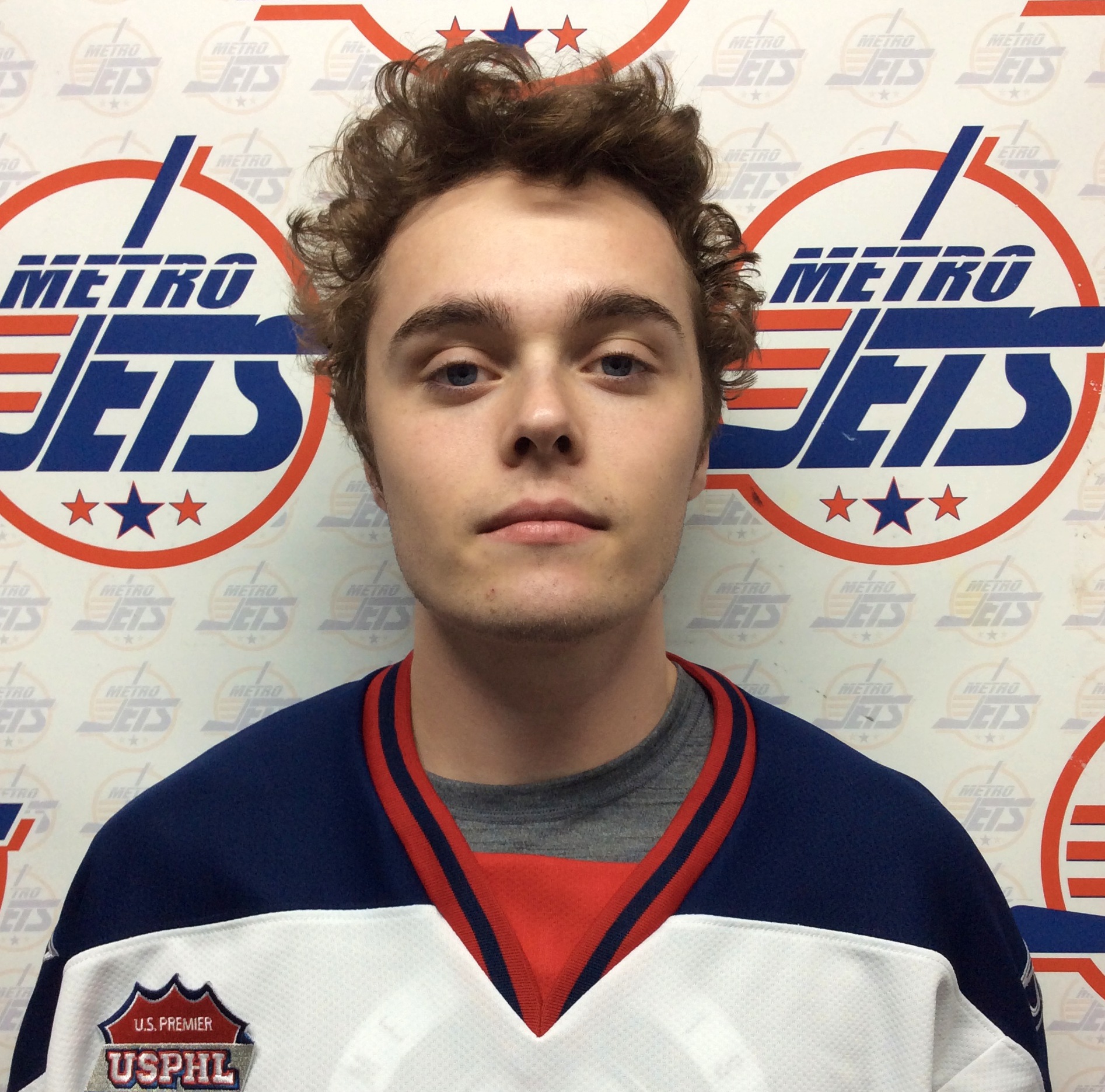 Conner Graham, Metro Jets
Another third-year USPHL veteran - and all with one team - Graham has been racking up points for the Metro Jets going back to 2018. The 2000-born Lake Orion, Mich., resident posted the majority of his 13 points in November's six games. He had a 5-3-8 line in that time, missing the scoresheet just once on the month. He also helped the Jets remain one of the top teams in the entire 62-team Premier Division. In early December, they are second overall in points.
Graham currently has a 6-7-13 line in 16 games this year. Graham led all Jets forwards in ice time in November as well at 19:40 per game.
Defense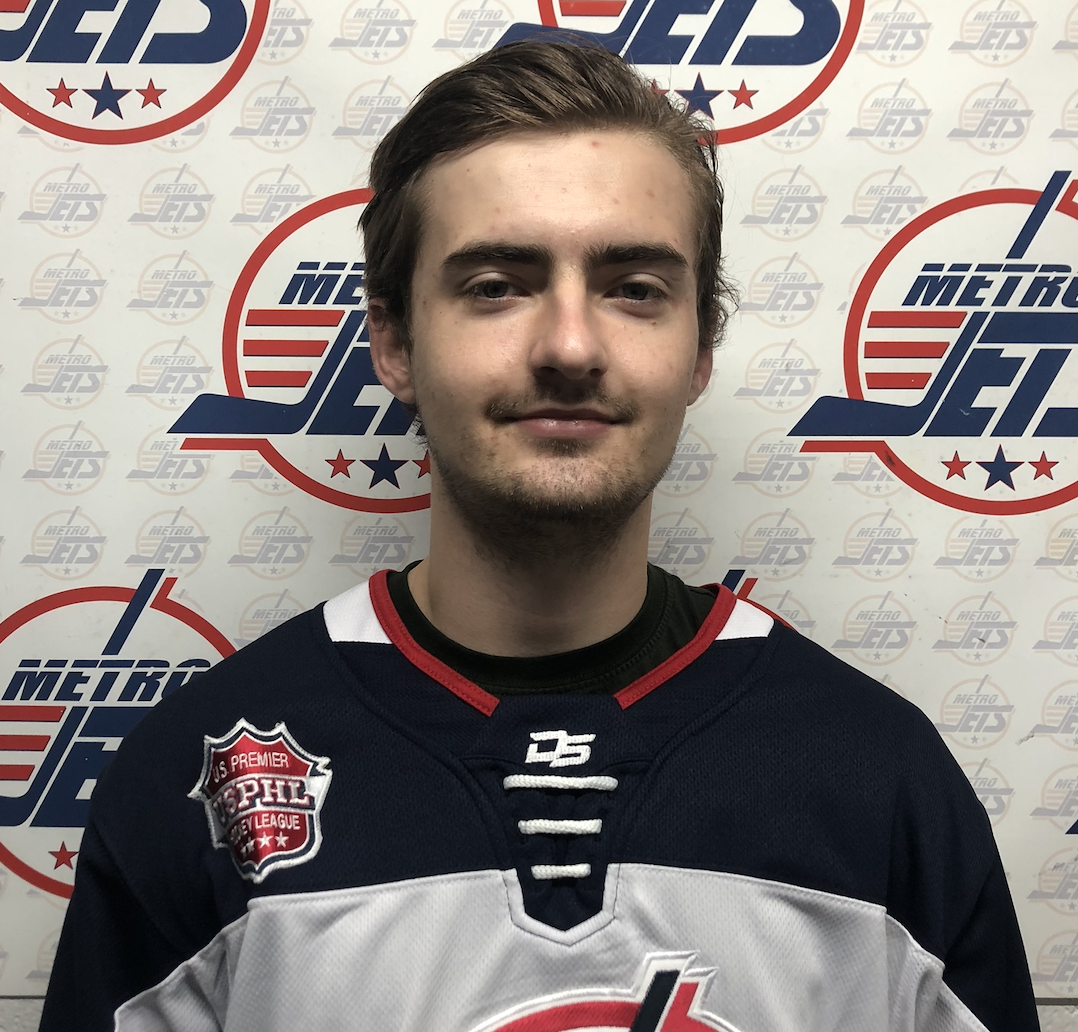 Joey Johnson, Metro Jets
Johnson ('00/Midland, Mich.) has been the Mr. Everything for the Jets defense for much of this season, including a fantastic November. He posted 2-2-4 in the Jets' six games last month, while remaining among the team leaders in ice time (24:42 per game, second), shots on goal (24, second), takeaways (45, first) and shot interferences (3).
Overall, Johnson has posted a 3-9-12 line through 16 games so far this year.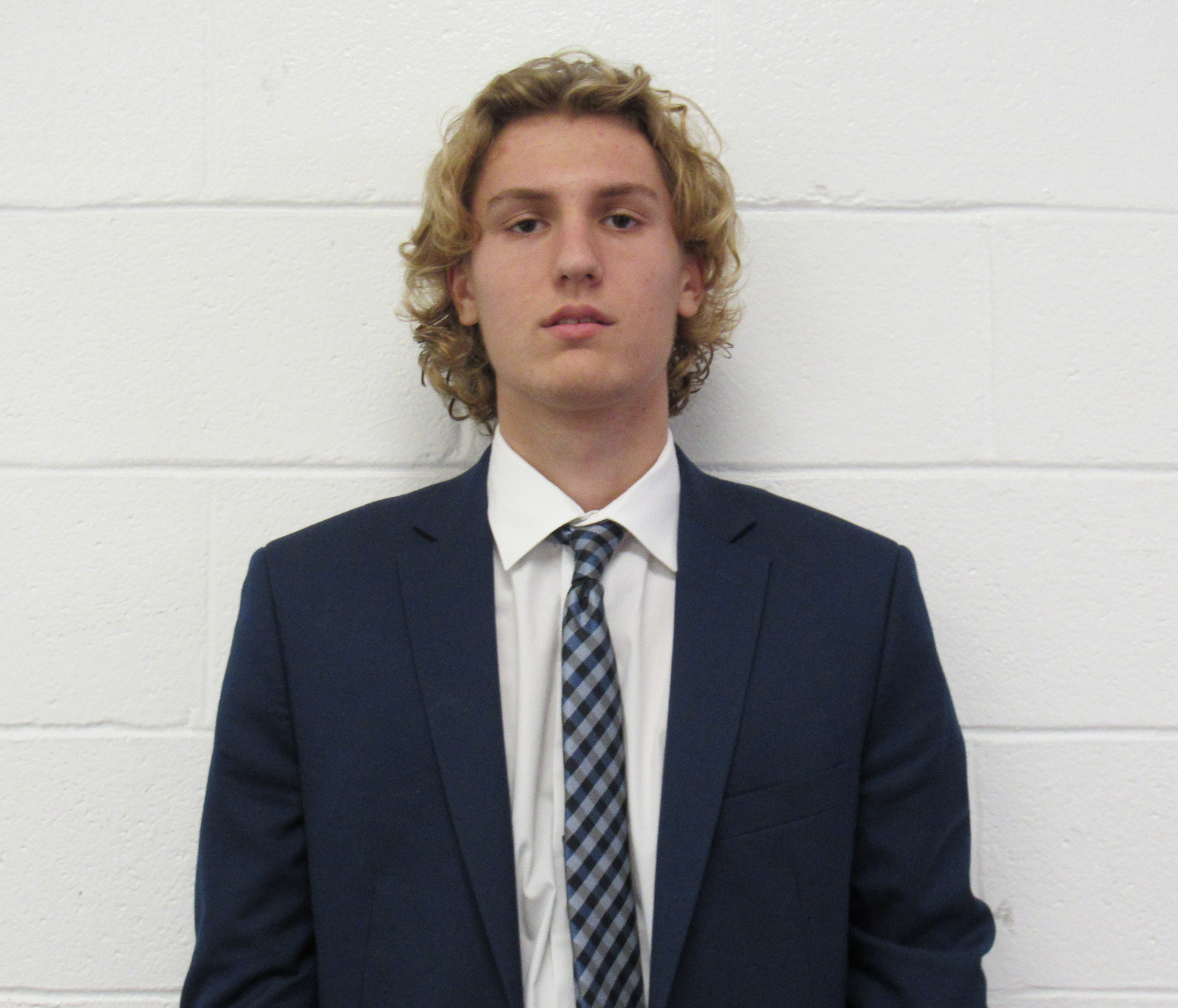 Brian Odstrchel, Pittsburgh Vengeance
Odstrchel contributed four assists in the Vengeance's six games for November. He also helped his team join the Jets in keeping opponents below 30 shots per game on average, allowing just 27.1.
Odstrchel ('01/Norwood, Mass.) is in his second season in the USPHL Premier, having played for the Boston Junior Bruins' Premier and 18U teams last season. Overall, he has picked up seven assists this season, so he had the majority of his total offense this month and he has already passed his 2019-20 totals.
Goaltender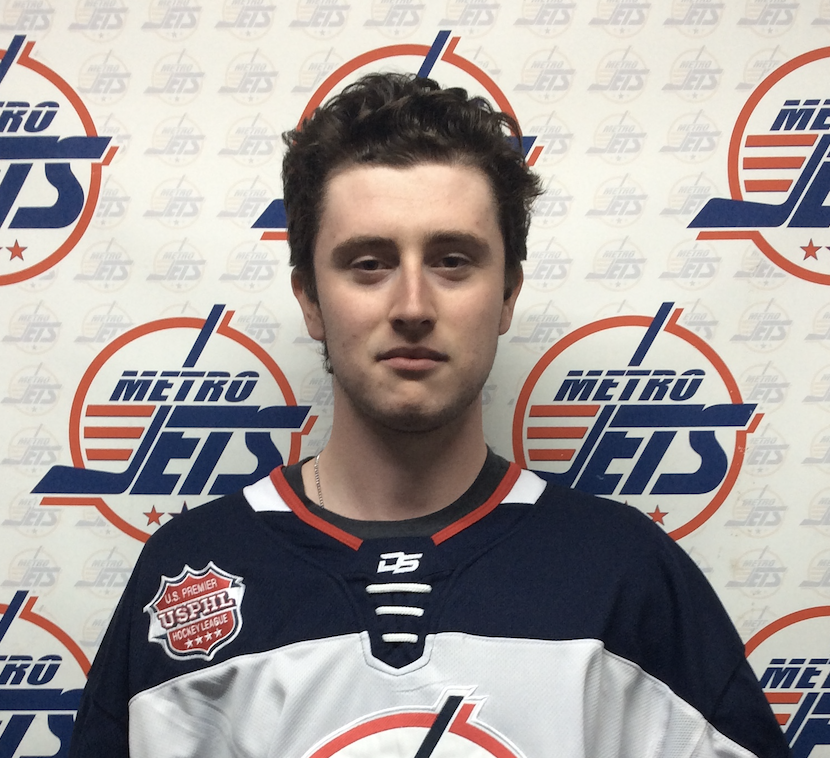 Will Augustine, Metro Jets
Augustine ('01/Livonia, Mich.) is in his third season in the Jets net, having started as one of the MJDP starters in 2018-19. He has already racked up 33 regular season victories in his Premier career, and the most recent three came in the month of November. He went 3-0 in his appearances, stopping 72 of the 78 shots that he faced for a .923 save percentage.
His best performance was a Nov. 24 game against Wooster in which he stopped 27 of 28 shots against Wooster, helping the Jets complete a 6-0 month.
Midwest East Division
Forwards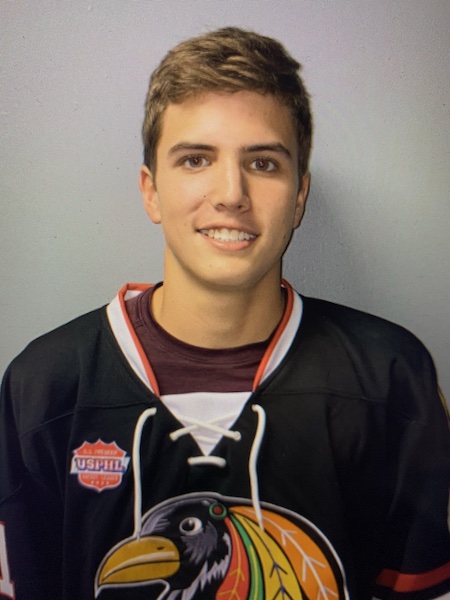 Josh Venable, Midwest Blackbirds
By the time the first period of the Blackbirds' third game in November was over, Venable had matched his points total from his first eight games of the season. Overall, Venable's eye-popping November line of 8-8-16 in seven games was enough to propel the Blackbirds to a 4-3-1 month.
Venable ('02/Elmhurst, Ill.) is a first-year USPHL player, coming out of Fenwick High School. As mentioned, he spent time finding his groove in October, but absolutely exploded. After a two-goal game to open the month on Nov. 8, he racked up a 1-4-5 line in a big win against Motor City, followed immediately by a three-point performance against MHC. His current scoring streak is eight games with an 8-9-17 line going back to Halloween Night.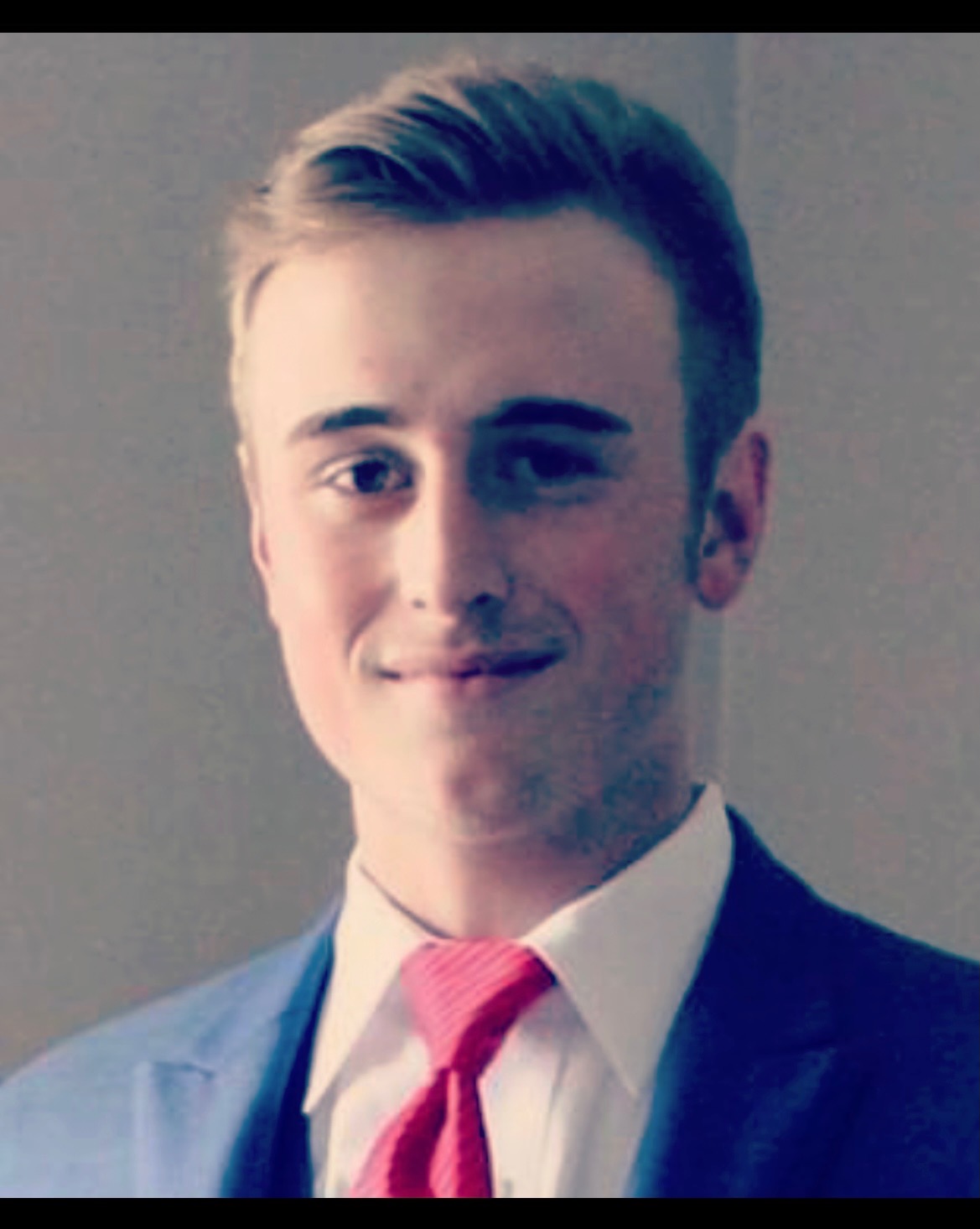 Clay Hightower, Detroit Fighting Irish
An NCDC Draft Pick of the Rockets Hockey Club this past spring, Hightower ('00/Carleston, Mich.) has continued his torrid scoring pace that began last season, also with Detroit. His 2.18 points per game pace so far this season is good for seventh in the league, as he stands with 12-12-24 in 11 games. He has scored in each of his games so far this year, as well.
For November, he added 7-7-14 through seven contests, starting the month with a two-goal effort in the first of two 3-2 losses to traditional Midwest East powerhouse the Chicago Cougars. Hightower helped the Fighting Irish to an impressive 4-2-0-1 stand in November.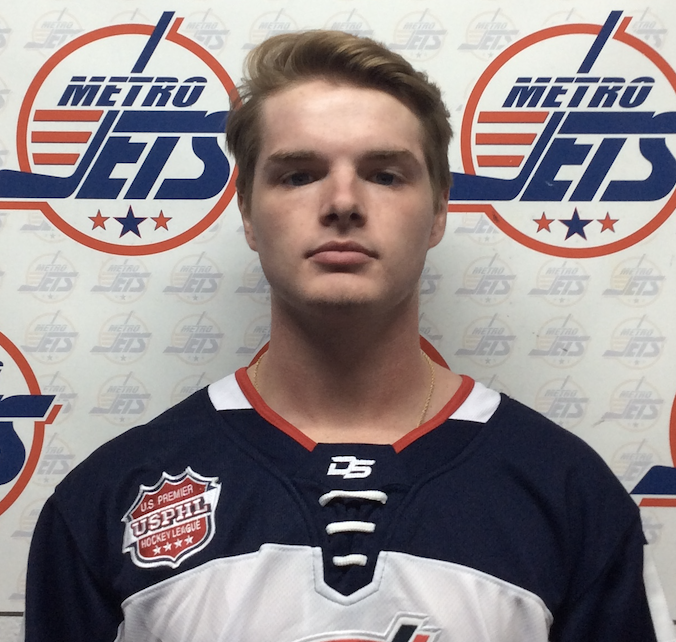 Patrick Hays, MJDP
The success of the Metro Jets Development Program (MJDP) has given the Fraser, Mich.-based Jets organization two division-leaders at the end of November. The MJDP went 6-1 in November, their only loss being a 5-3 cross-divisional in-house defeat to the Jets of the Great Lakes Division.
Hays ('01/Centerville, Ohio) was the MJDP's leading offensive light for the month, posting a 4-7-11 line in the seven games, and his active scoring streak goes back to Oct. 8 (7-10-17 in 10 games). Prior to his current scoring streak, he had one assist in his first five games of the year, so "still catching fire" is an apt term for this player right here.
Defense

Kolin Leduc, Detroit Fighting Irish
A hat trick from his blue line position helped key the Fighting Irish's 5-2 win against the Midwest Blackbirds on Nov. 21, the second part of a three-game sweep. Overall, the '03 Leduc posted a 3-4-7 line in his seven games for the Fighting Irish, while also posting some outstanding defensive stats.
The Fighting Irish's leader in ice time (25:39), he also led the way in November in plus-minus (+10) and had an amazing 68 takeaways (average 9.7 per game).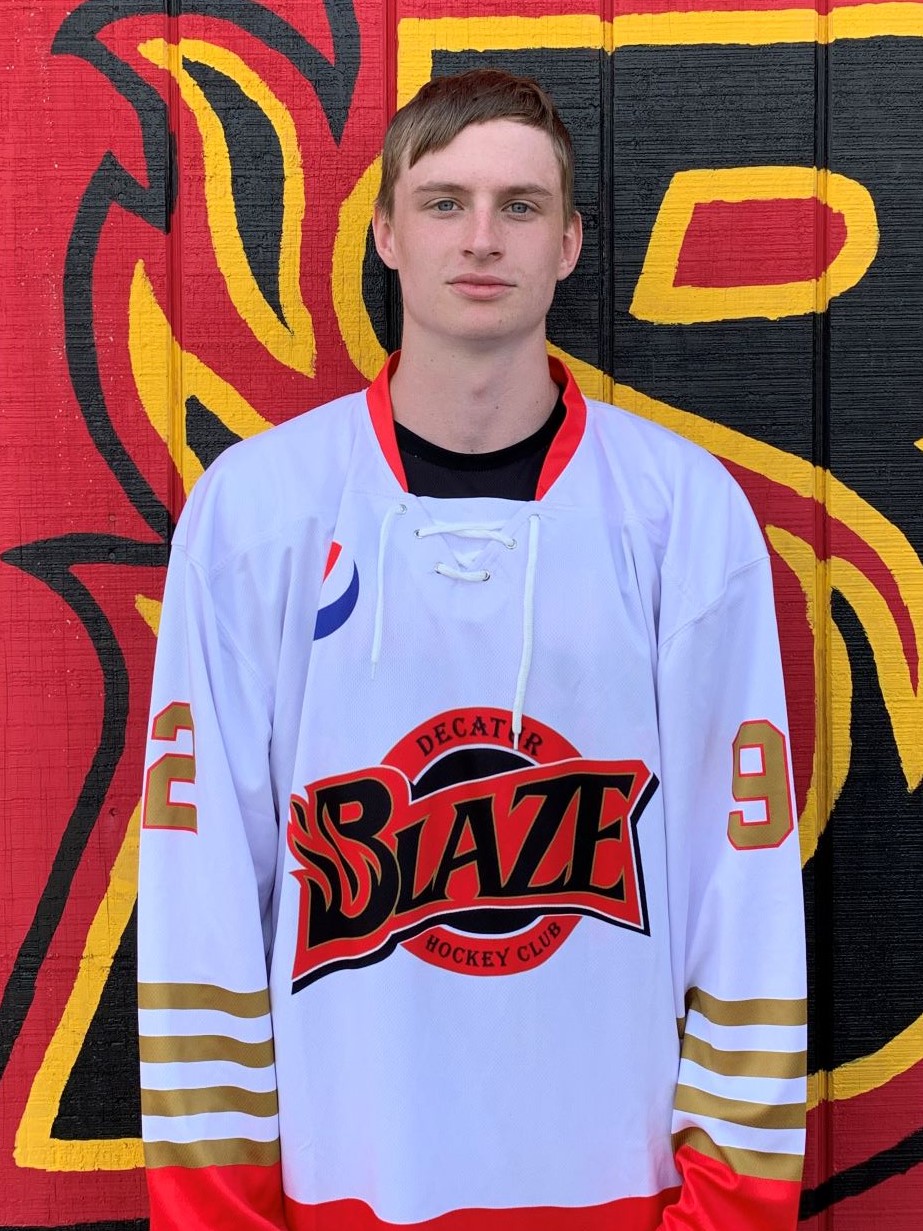 Cody Wilson, Decatur Blaze
The fourth-year Blaze blueliner was outstanding as the Blaze closed out a 3-2 month of November. Wilson ('00/St. Louis, Mo.) first played for the Blaze in the former USP3HL in 2016-17, and General Manager/Head Coach Zac Pearson keeps bringing him back because he is simply solid everywhere. During November, he posted a 2-3-5 line in five contests, while leading the team in average ice time (28:18) and hits (5). He was second in takeaways (21) and puck battles won (28).
Goaltender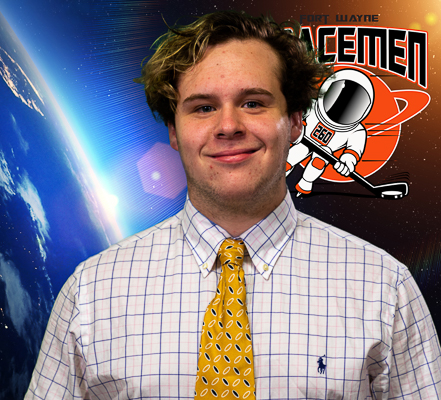 Justin Sheets, Fort Wayne Spacemen
After some initial struggles to start the 2020-21 season, Sheets ('02/Livonia, Mich.) put it all together for November and racked up a 3-0 record, allowing just two goals in the process. He has already equaled his wins total from his 2019-20 campaign with the Fighting Irish.
A couple weeks after a frustrating mid-October outing against the Chicago Cougars, Sheets came right back on Nov. 1 and shut out the Metro Hockey Club (MHC) with a 31-save performance.
In a Nov. 20-21 weekend set with the Decatur Blaze, Sheets helped avenge a loss in the first of three games by winning the next two with only one goal against in each. All told, he stopped 89 of 91 shots for a .978 save percentage and a 0.67 goals against average.
Midwest West Division
Forwards
Cole Creger, Wisconsin Rapids Riverkings
Creger ('00/Lafayette, Colo.) is among the top 10 all-time for the USPHL Premier in both games played - third with 140 - and points - ninth, with 145. A four-year Riverking, he shows year after year and day after day why he is one of the all-time best in the league, with November being a shining example. Last month, he scored six goals and 17 points in just four games, an average of 4.25 points per game. His highlight was a 1-5-6 game, which immediately followed a 3-2-5 performance, both against the Dells Ducks. Overall, this season, Creger has posted a 14-21-35 line in 16 games.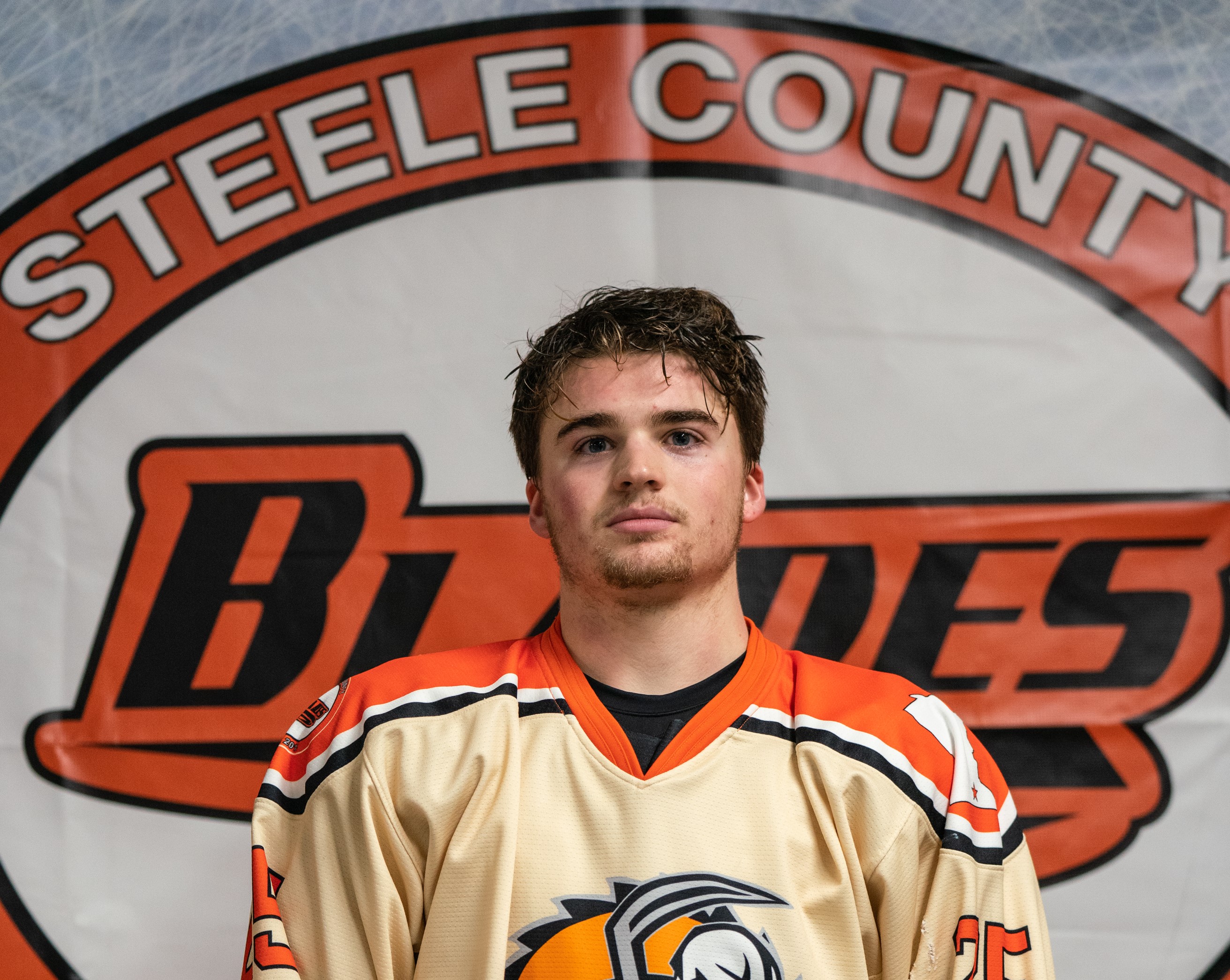 Noah Yerdon, Steele County Blades
Yerdon is another player who had a measured start before absolutely exploding with offense in the month of November. After a very respectable start of five points in five games, the '01 from Monaca, Pa., posted a 2-8-10 line through just four games. He had a best performance of 1-3-4 in the Blades' decisive win over Dells on Nov. 14.
Yerdon, who previously played in the USPHL in 2018-19 for the 18U Pittsburgh Vengeance, now has a total 4-13-17 line through 12 games this season.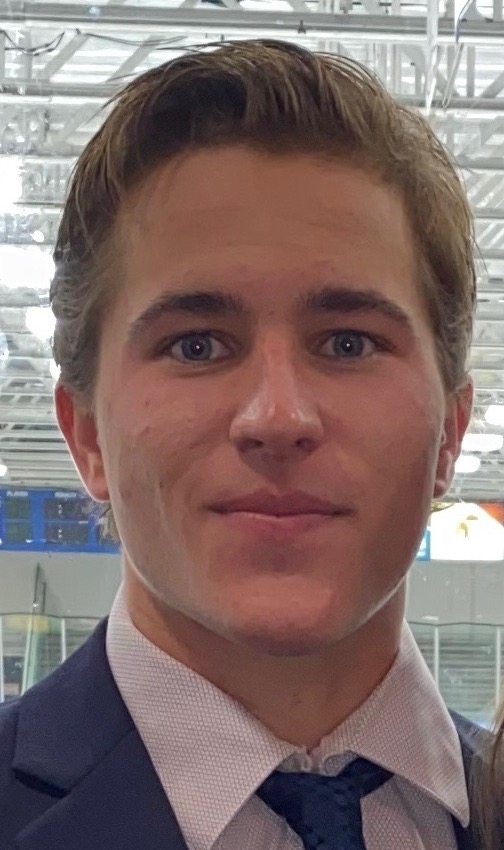 Tyler Braccini, Minnesota Moose
Braccini helped his Moose squad, always one of the Midwest West's best, to a 4-2 month for November. The '01 from Hanover, Minn., was the Moose's brightest shining light in November, posting a 4-6-10 line through five contests. Braccini had three multiple-point games, the highlight being a 1-3-4 performance against the Rum River Mallards on Nov. 19. He also scored the game-winner in a 2-1-3 performance against the Mullets one game earlier.
The rookie junior pla
yer has posted a 7-9-16 line through his first 10 USPHL games.
Defense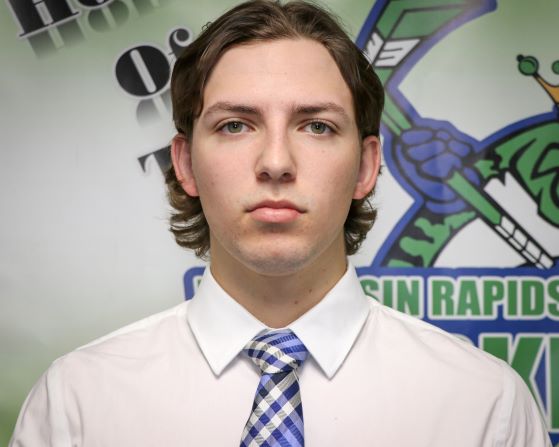 Jordan Stear, Wisconsin Rapids Riverkings
The '01 out of Frisco, Texas, is now in his third season with the Riverkings. They keep him coming back because he is just that good, and he is clearly the Riverkings leading blueliner, and very often, one of the top blueliners in the entire USPHL Premier.
For November, he posted a 2-8-10 line in just four games, and came out of the month a +9. He remains his team's ice time leader (23:32 in November) and leads the breakout moore than any other player, with 17.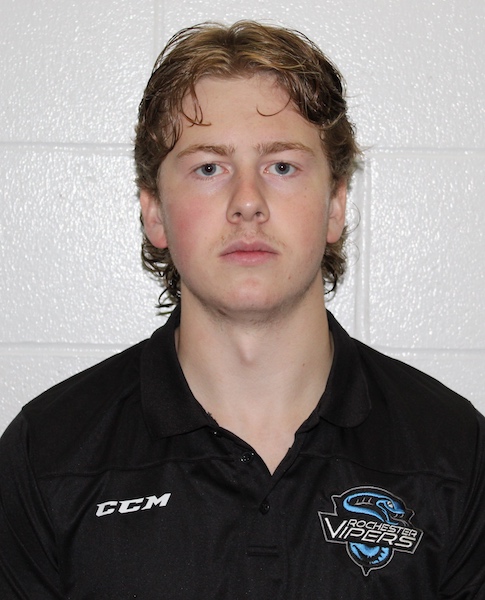 Judson McGrath, Rochester Vipers
McGrath was a beacon of hope as the Vipers continue to try and push their way upwards in a grueling Midwest West Division. The three-year junior veteran out of Allen, Texas, started November with a goal and two assists in a win against the Dells Ducks, and he also had assists on the Vipers' only two goals in their Nov. 14 loss to Wisconsin Rapids. Through it all, despite varied results on both sides of the win-loss column, McGrath has been a steadying presence for Rochester. He was a -1 in November on a team where the leader was a +1, while leading the defense in minutes played (22:34), and he tied for the team lead in both hits (5) and blocked shots (7).
Goaltender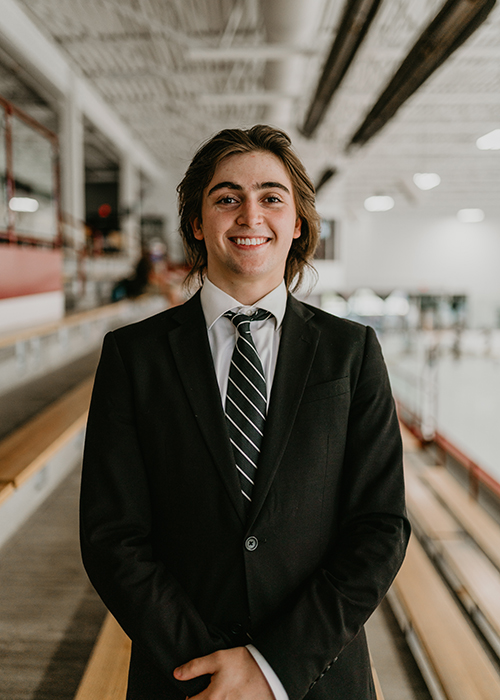 Vinny Castelletti, Minnesota Blue Ox
The only repeat winner here, Castelletti ('02/Roseville, Minn.) had a lighter month with just 120 minutes in net, but he was impressive in his two games, going 1-1. He gave up just six goals on 70 shots between the two games for a .914 save percentage on the month.
Castelletti is an NCDC Draft Pick of the New Hampshire Jr. Monarchs, and his seven wins on the season rank him in the top 10 league-wide in that category, and his overall .930 save percentage is in the top 15.